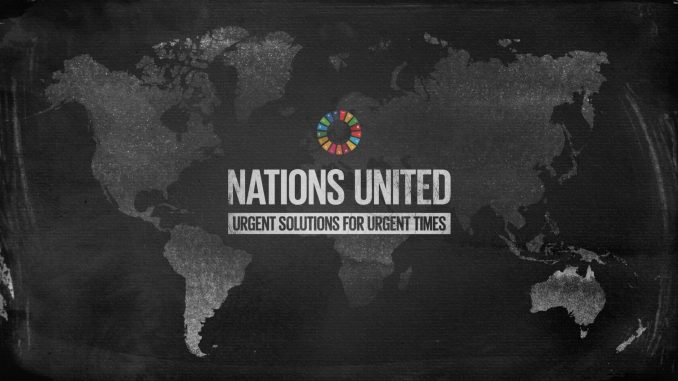 "Nations United – Urgent Solutions for Urgent Times" sets out what must be done to tackle the world's biggest issues, from COVID-19 to poverty, inequality, gender discrimination, climate change, justice and human rights. The broadcast will also mark the UN's 75th anniversary, as well as the 5th anniversary of the Sustainable Development Goals.
"Today, as we mark the 75th anniversary of the United Nations, and the fifth anniversary of the Sustainable Development Goals, we feel the weight of history on our shoulders. The COVID-19 pandemic has shown how fragile our world and how vulnerable our people are. A microscopic virus has brought us to our knees. That fragility should make us humble and drive us to solidarity as we rebuild the world in a better way."

António Guterres, Secretary-General, United Nations
"The way we must exit the pandemic is the same way we must exit the devastating crises of extreme poverty, inequality and climate change – by working together, nations united, inspired by solutions in which we can all play a part. I hope people will watch this film – from leaders to citizens – and think about what more they can individually and collectively do in the fight for a better world for everyone, everywhere."

Amina Mohammed, Deputy Secretary General, United Nations
"Nobody could have anticipated the crisis and uncertainty that we're living in, but also the immense appetite and opportunity for change that COVID-19 has provided. Through Nations United, we want to tell the story of how we will use the moment to radically transform our world for the better and set out the solutions that will bring about real global change."

Richard Curtis, writer, film director and UN Sustainable Goals Advocate
"In the midst of COVID-19, it's a historic opportunity to look at the facts of the world as it is – and to then focus on the solutions to some of our greatest problems. In the 75 years since the United Nations was founded, the human race has never had to face a set of challenges like we do right now. But together we can overcome them."

Thandie Newton OBE, women's rights activist
"My message right now is to young people. We are living in a world where things are not the way we want; we are getting a system, we are getting a world which is unequal, which is sexist, which is racist. We have systems which are discriminating against people, our climate or environment is at risk. There is so much that needs to be done but I hope that young people stand up, raise their voices, they start their activism right now."

Malala Yousafzai, education advocate and UN Messenger of Peace
In the midst of a pandemic radically transforming our world, "Nations United – Urgent Solutions for Urgent Times" is set apart from other stories in its focus on facts and solutions, recognizing the need for specific evidence-based action which will create real change. From debt relief, to cutting fossil fuel subsidies, to universal access to healthcare, quality education and digital financial empowerment – the broadcast will present the decisive and immediate action needed to build a better world.
---
Source:
https://www.un.org/sustainabledevelopment/blog/2020/09/united-nations-releases-special-2020-broadcast-calling-for-collective-action/